Welcome to St John's Uniting Church
Join us on Sundays at 9.30am. No need to book simply arrive early, ready to sign-in with our QR code. 
This service includes Singing , a Sermon, Children's Time, Bible Readings and Prayers of the People. We gather for worship on Sunday mornings at 9.30am. The service also continues to be hand-delivered to those without internet or Zoom access. Please Contact Us to find out how to join face-to-face, on Zoom, or to receive a hand delivered service each week. 
In "normal" times our children attend Sunday School in the Lower Hall and we all enjoy Morning Tea after the service in the Upper Hall.
Throughout the week, our fellowship and friendship continue through small groups such as the Prayer Group, Bible Study, Coffee Mornings, Pastoral Care Committee, Knitting and Art Group as well as informal catch ups in the park over a cup of tea. We have enjoyed some big events annually such as our Easter and Christmas Crafternoons, Movie Nights, Gingerbread House Workshop and special services for Palm Sunday, Easter, Pentecost, Spring Prayer Walk and of course Christmas. This year our plans may have been derailed but as a community we have grown in our personal relationships and have connected in new ways. 
COVID has been stressful, church doesn't have to be! Looking forward to welcoming you soon. Follow us on Facebook.
Even in a time of social distancing...everyone is welcome at all of our services.
International Day of Peace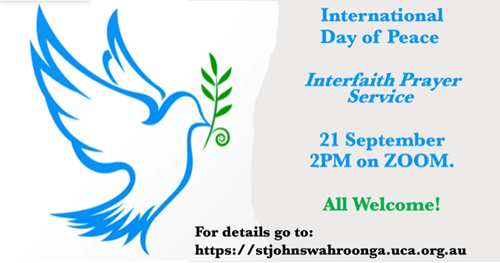 Interfaith Prayer Service
On Tuesday 21 September 2021 at 2pm on Zoom
https://uca-nswact.zoom.us/j/96010303812
Occasional address: Rev. Simon Hansford, the Moderator of the Uniting
Church in Australia NSW & ACT Synod.
Prayer on behalf the Uniting Church in Australia: Rev Sharon Hollis, the
President of the National Assembly of the Uniting Church in Australia.
Religious leaders from Aboriginal, Bahai, Brahmakumaris, Buddhist, Christian,
Hindu, Islamic, Jain, Jewish, Mandaean, Sikh, Sufi and Zoroastrian communities
will offer prayers for peace. There will be opportunity to light a candle for Peace
during the service. So please keep a candle and matchbox ready.
For further information contact Rev. Dr. Manas Ghosh
on 0429 892 548 or email: revmanasghosh@gmail.com
National Day of Prayer for COVID-19: 22 August 2021